blouse: ModCloth // skirt: ModCloth // clutch: ModCloth
necklace: Le Fancy Geek Boutique // belt: Fossil // shoes: Bait Footwear
I adored Peggy Carter in Captain America: The First Avenger, so of course I'm completely obsessed with Agent Carter! It's so awesome that Marvel created a show focusing on such a strong, badass mamajama. Are any of you fangirling over it too? Do you want to elbow Agent Chad Michael Murray in the face as much as I do? Did you watch last night's episode?!?!?! Because OMG OMG OMG.
Putting together an Everyday Cosplay for Peggy was a bit of a challenge at first because I kept flip flopping between different outfits she wore on the show and in the Captain America movie. Do I stick with her neutral military ensembles, or her sharp blue suit and red fedora number from Agent Carter? I gravitated towards the simple neutral pallet of her military uniform and found some items on ModCloth, such as a the cream blouse, olive skirt, and postcard clutch, to pull the look together. The postcard clutch says "Make up for last time" — it kind of reminded me of when Steve promised her a dance as his plane was plummeting, and he obviously couldn't keep it because… well, he turned into a popsicle. I'M SORRY I WENT THERE. 😥
I also included a Steve Rogers pendant that just got added to Le Fancy Geek Boutique! I've also added a Peggy Carter necklace that comes in two different color ways — one features the same cream lace background as the Steve Rogers pendant, and the other has a maroon floral background.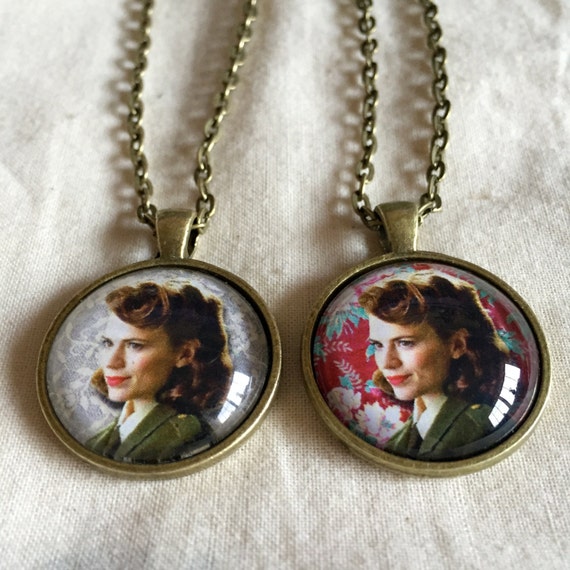 If you're fangirling like somethin' fierce over Agent Carter like I am, leave a comment so we can start fangirling together!
PS: If you'd like to purchase a Peggy Carter or Steve Rogers necklace, be sure to use code GALENTINE15 to save 10% off your purchase! Good until Feb. 14.